Local Print Spooler error description
If we are talking about local print spooler issue (or error) we usually mean this kind of problem in Windows Vista or Windows 7: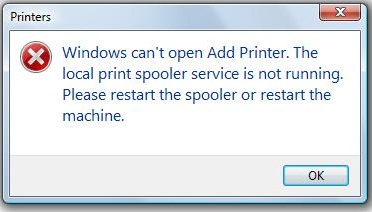 This error that states that "local print spooler service is not running" appears while trying to add new printer device. This means that some error occurred to your Print Spooler and this will result inability to print anything and all your printers will disappear from "Devices and Printers". This can be a temporary accident (one-time error) and after several minutes your local print spooler service will restart itself.
But in difficult cases it can stay turned off even after reboot or will continuously crash after every attempt to start it. You can easily solve this problem using Printer Spooler Fix Wizard. This is simple-to-use and effective tool that will fix local print spooler error by finding and removing the source of the problem. You can download it here:
Download Fix Wizard
Fixing Procedure
If you would like to fix error on your own here are basic steps to get rid of local print spooler error:
Remove OLD printer drivers and references about them in registry (clean "Print" key).
Check Print Spooler dependences (basically just run sc config spooler depend= rpcss command in Command Prompt.)
Make sure Print Spooler is running (or start it yourself using "Services" or Command Prompt and command net start spooler.)
If spooler started successfully and keeps running you can proceed to installing printer driver. Mention that it is always better to find and install latest version of driver to your printer downloaded from the web. Standard Windows drivers are far not the best.
While installing it is strongly recommended to configure the right port – for local printers it is USB001, USB002 etc., network printer should normally be located by "Add network, wireless or Bluetooth printer" or just by choosing one of the pre-configured IP ports.
If you don't want to mess with registry files or all this setting you can use Printer Spooler Fix Wizard.
Download Fix Wizard
Postscriptum
In case you can't fix print spooler error or it continuously re-appearing you can use one tweak by actually turning off spooling and start printing directly to printer:
You can do it by going to "Printer properties" go to advanced tab and choose "Print directly to printer" option.
Information provided by: Alexey Abalmasov