Did you know that there a lot of ways to clear print spooler?
Yes, there are actually several ways to clear files that stuck in spooler of your printer. If you ask why it is necessary I can tell you that this is one of the simplest reasons of print spooler error or why your printer refuse to print. First, of all if following instructions won't work and docs will continue to jam in print spooler download Printer Spooler Fix Wizard:
Download Fix Wizard
Here are manual ways to clear print spooler:
1) To cancel one or more print jobs do the following:
Click Start, and then click Run.
In the Open box, type control printers, and then click OK.
Right-click the icon for your printer, and then click Open.
To cancel individual print jobs, right-click the print job that you want to cancel, and then click Cancel.
To cancel all print jobs, click Cancel All Documents on the Printer menu.
2) Simply turn on and off your printer – this may help. Or simply restart the print spooler: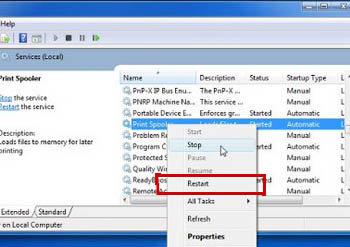 3) Create special batch file that will clear the spooler.
a) Select following text:
net stop spooler
del %systemroot%\system32\spool\printers\*.shd
del %systemroot%\system32\spool\printers\*.spl
net start spooler
b) Right-click the selected text, and then click Copy.
c) In Notepad, right-click in the blank document, and then click Paste.
d) Save this file as "Fix" and change its extension to .bat so you get "fix.bat" file.
In Windows XP you just need to double click on it. In Windows Vista or 7 right click on this file and choose run as administrator.
Utility to clear print spooler in Windows 98, 2000, ME, XP and 2003
1) Dowload cleanspl.zip usink this link.
2) Extract the zip file, you will see Cleanspl.exe and PRINT_DEFAULT.reg
3) Run the Cleanspl.exe choose your PC, click "Clean Spooler" and click Yes to Start.
4) Click Yes on each notification and restart your PC.
5) When computer starts, the print spooler will be cleared.
6) Double-click PRINT_DEFAULT.reg – that will restore Print key.
7) Restart the server
Utility to clear print spooler in XP and Vista/7
1) Download Print Flush from Brad Kovach.
2) Double-click the file.
3) Try to print again.
Hope this post will be helpful. In case you are still unable to clear print spooler and continue printing use Printer Spooler Fix Wizard – it is guaranteed solution for your problem.
Download Fix Wizard
Information provided by: Alexey Abalmasov